Christmas Gift for Someone Special!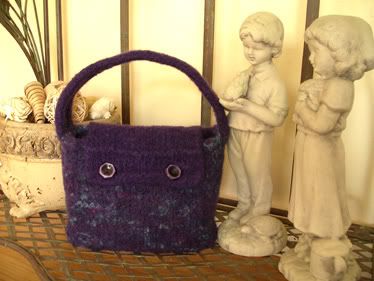 Here she is, ready to mail. I'm extremely pleased with how this came out - the combination of the Lamb's Pride and the Manos felted quickly and wonderfully. The colors stayed true and the bag came out firm and with lot's of body. The finished size is 8" wide by 7" tall by 2 1/2 " deep - just perfect for my mother who doesn't need to carry very many things with her anymore. I'm also working on a purple scarf made out of Muench Touch Me to go with it - she lives in Michigan!! Wonderful pattern for anyone who has the book Pursenalities. By the way, I also heard from a yarn shop owner down in Palm Springs earlier this week that the author is coming out with Pursenalities #2 after the first of the year!! Yippee . . . .
I found this pattern in the Pursenalities book and thought it looked just right for my mom. I just happened to have a skein of Lamb's Pride Worsted in Clematis and a skein of Manos del Uruguay in color # 103 which is a purple and blue variegated with a little magenta thrown in occasionally. These are all her favorite colors and "wala" this bag came out just perfect. Knit double stranded on size 15 circular needle. The body of the bag was one strand of Lamb's Pride and one strand of the Manos. The flap and handle were double stranded Lamb's Pride.